Werbung: Last-Minute bei Amazon

Radio Musik-Flatrate

Who's Online
Zur Zeit sind 83 Gäste und 0 Mitglied(er) online.
Sie sind ein anonymer Besucher. Sie können sich hier anmelden und dann viele kostenlose Features dieser Seite nutzen!

Online - Werbung

Haupt - Menü

Kostenlose Online-Games

Terminkalender

Seiten - Infos

Ciao-Bella-Fans.de WebTips

Artikel zu Themen aus Rock & Pop
Diese Artikelübersicht steht nur auf der Starseite zur Verfügung!

Online WEB Tipps


Freie-PM.de: Last Minute Promotion-Pakete für die Schlussfeier und viele Celebrity Partys

Im August steht das größte Sportereignis des Jahres an - die Spiele in London. Für Unternehmen und Werbeagenturen bietet die Nürnberger Marketing-Agentur Realtime Company exklusive Promotion Pakete für die Schlussfeier am 12 August an.

Unter dem Motto "A Symphony of British Music" werden vier super Headliner im Olympic Park die Bühne rocken: Take That, George Michael, The Who und Emeli Sande. ...

Freie-PM.de: Darauf haben bayerische Harley-Davidson Fans lange gewartet. Nun ist es amtlich: Unter der Schirmherrschaft der Harley-Davidson GmbH Deutschland und einem der größten Harley-Davidson Vertragshändler Deutschlands, dem House of Flames, veranstaltet webmania eine Riesenparty: Vom 13. bis 15 Juli treffen sich die Harley Gemeinde und die Fans guter Rockmusik auf dem Zenithgelände im nördlichen Teil von München.

Auf einem riesigen Areal mit Hallen und Zelten wird drei Tage lang der ...


Freie-PM.de: So treffen Sie beim Bogenschießen wie die Profis

Bogenhausen, den 26.06.2012: Entspannen Sie sich, konzentrieren sich auf der Stelle schweben Sie Ihr Ziel auf-diese Tipps zum Fotografieren und die anderen unten wirst du gut gesagt auf Ihrem Weg zu einer genauen, erfolgreiche Bow Hunter.
1. Treestand Technik: Wenn die Leute von einem treestand verpassen, sie vermissen häufig hoch. Es gibt zwei Gründe. Erstens kann die Hirsche selbst "springt die Saite." Fast alle von ihnen l ...

Freie-PM.de: 01. Juli 2012 - 01. September 2012 - Ausstellung von Bildern der Künstlerin Wang Xiaofang in Berlin

Das Restaurant blisse14 in Berlin-Wilmersdorf freut sich, Ihnen in der aktuellen Ausstellung die Arbeiten der Chinesischen Künstlerin Wang Xiaofang vorstellen zu können.
Wang Xiaofang ist gelernte Musikerin und lebt als freie Künstlerin in Peking.
Neben ihrer Tätigkeit als Musikerin beschäftigt sie sich seit vielen Jahren mit der Malerei.
Nachdem sie zunächst in ein ...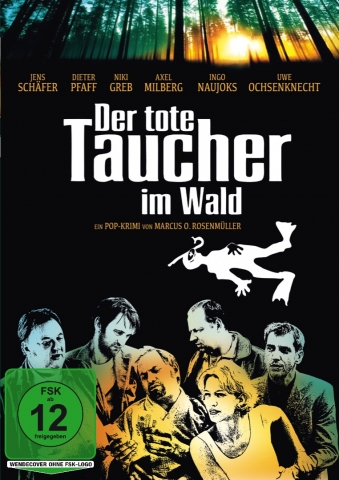 Freie-PM.de: Originelle Mischung aus Thriller und Kriminalkomödie. Mit Soundtrack von Reinhold Heils (Lola rennt) und herausragender Besetzung. Mit dabei: Dieter Pfaff, Jens Schäfer, Axel Milberg, Uwe Ochsenknecht, Johannes B. Kerner, Niki Greb, Ingo Naujoks, Jack Recknitz, Michael Tregor, Gert Burkard, Michaela Schaffrath u.a.

Eine mysteriöse Leiche versetzt ein ostdeutsches Provinzörtchen in blanke Auffuhr. Gefunden von einem Jogger (Johannes B. Kerner) liegt sie im Wald, 30 Kilometer vom ...

Freie-PM.de: Die Musikfilmtage Oberaudorf nehmen die Zuschauer dieses Jahr vom 11. Juli bis zum 15. Juli mit auf eine spannende Entdeckungsreise durch die Musikfilmwelt. Nun steht die genaue Route fest, auf der die Reisenden von Machern und Mitwirkenden vieler Filme begleitet werden.

Die Musikfilmtage beginnen am Mittwoch, den 11. Juli mit dem Film "Violinissimo", der junge Geigenvirtuosen auf dem höchstdotierten Musikwettbewerb der Welt in Hannover begleitet. Der Film porträtiert die Anstr ...


Freie-PM.de: Ab 12:00 Uhr treffen sich in diesen drei Tagen die bekanntesten Rockbands im Parkorman Park zum Tuborg Gold Festival. Es hört sich ein bisschen wie das Who is Who der Musik an, wenn man das Line-up für das Tuborg Gold Festival in Istanbul liest. Es sind die ganz großen Namen, die in Istanbul auftreten und unter anderem werden dabei sein: Guns'N'Roses, Evanescence, Within Temptation, Apocalyptica, Lacuna Coil - und das sind nur vier de ...


Freie-PM.de: Gerlingen, 25. Juni 2012 – Die Hamburger Schauspielerin Nina Bott ("Das Traumschiff", "Der letzte Bulle", "Verbotene Liebe"…) engagiert sich jetzt auch gemeinsam mit PETA Deutschland e.V. gegen die grausamen Hundetötungen in der Ukraine. Mit ihrem Protestmotiv appelliert die Hundefreundin an die ukrainische Regierung, die Massentötungen von Hunden in dem Gastgeberland der Fußballeuropameisterschaft 2012 endlich zu stoppen. Auch vor dem Hintergrund, dass ein überführter Hundequäler geri ...

Freie-PM.de: Die Vorbereitungen für das Poinger Volksfest vom 19. bis 23.07.2012 laufen auf Hochtouren. Die Planungen für das Festprogramm sind bereits weitgehend abgeschlossen. Deshalb stellte die Gemeinde in Vertretung des Ersten Bürgermeisters Albert Hingerl zusammen mit dem Festwirt Bernd Furch am Mittwoch, den 06.06., das Ergebnis der Programmarbeiten um 09.30 Uhr in Francesco´s Restaurant & Caffebar in der Hauptstraße 11 vor. Bei einem Weißwurstessen in lockerer Runde präsentierte Albert Hing ...


Freie-PM.de: Die Tage sind gezählt, das Programm zum zwölften Poinger Straßenfestival ist abgesteckt: Rock- und Popbands, Tanz- und Ballettgruppen, Genuss- und Schmankerlbuden sowie ein kunterbuntes Kinderprogramm erwartet die Besucher am Samstag, 30 Juni 2012 auf der Poinger Hauptstraße. Wie in den vergangenen Jahren wird es auch 2012 wieder ein Unterhaltungsprogramm auf drei Bühnen geben.

Auf der Bühne 1, nahe des Maibaums beginnt um 15.30 Uhr die Gruppe "Mardi Gras" das Festival mit Swing ...