Werbung: Last-Minute bei Amazon

Radio Musik-Flatrate

Who's Online
Zur Zeit sind 41 Gäste und 0 Mitglied(er) online.
Sie sind ein anonymer Besucher. Sie können sich hier anmelden und dann viele kostenlose Features dieser Seite nutzen!

Online - Werbung

Haupt - Menü

Kostenlose Online-Games

Terminkalender

Seiten - Infos

Ciao-Bella-Fans.de WebTips

Online WEB Tipps



Freie-PM.de: Anlässlich der Ausstellung "Frank Stella - Die Retrospektive. Werke 1958 - 2012" lädt das Kunstmuseum Wolfsburg in die Akademie der Künste in Berlin zu einer Diskussion ein.

Der künstlerische Wandel von Frank Stella vom Minimalismus zum Maximalismus gehört nach wie vor zu dem Eigenwilligsten, was die Kunstgeschichte der Moderne hervorgebracht hat und macht ihm zu einem prägenden Künstler des 21. Jahrhunderts. Stella (geb. 1936) ist einer der letzten lebenden Heroen der amerikan ...


Freie-PM.de: Der "Tag des Glücks" war der Tag der Christine Blum. Der Hauptgewinn von 1 Million Euro in der SKL-Millionen-Show machte die sympathische Coburgerin erst einmal komplett sprachlos. Ganz anders als die vier Stargäste Michaela May, Maite Kelly, Kai Wiesinger und Stefan Mross: Die warfen sich mit jeder Menge Humor, lockeren Sprüchen und maximalem Einsatz in die sechs Spielrunden - und verhalfen so nicht nur Christine Blum zur Million, sondern sorgten auch gemeinsam mit fabelhaften Artiste ...


Freie-PM.de: Mit Motivationstrainern aus dem Kampfsport durch den Herbst

(NL/6168271177) Gegen Antriebslosigkeit hilft ein Motivationstraining, um auf der Erfolgsspur zu bleiben. Speziell Motivationstrainer zeigen, wie sich Strategien aus dem Karate oder Taekwondo im Business einsetzen lassen.

Viele Menschen klagen im Herbst über Antriebslosigkeit. Auch die Wissenschaft hat mangelndes Sonnenlicht als einen der Gründe für negatives Denken und fehlende Energie bestätigt. Wer schlau i ...


Freie-PM.de: Ein Star werden kann heutzutage jeder der mit ein bisschen Talent gesegnet ist und vor allem viel Fleiß mitbringt. Doch der Weg dorthin ist mitunter lang und steinig, daher ist Unterstützung mehr als notwendig, damit auch jeder Künstler sein Talent entfaltet und zum Star werden kann. Die dazu notwendige Unterstützung bietet die Talentplattform "Ein Star werden" ab dem Frühjahr 2013 an. Dabei handelt es sich um individuell zugeschnittene Unters ...


Freie-PM.de: Was helfen kann, wenn die dunkle Jahreszeit zu trüben Gedanken verleitet

Im Herbst und Winter neigen viele Menschen zu Müdigkeit und Lustlosigkeit. Ein Grund hierfür kann das Hormon Melatonin sein, das unseren Schlaf-Wach-Rhythmus beeinflusst und das in unserem Körper verstärkt freisetzt wird, wenn zum Jahresende hin die Tage kürzer und die Nächte länger werden. Umso wichtiger ist es in dieser Jahreszeit, die wenigen Sonnenstunden am Tag richtig zu nutzen, um fitter und ...


Freie-PM.de: Die erste Single F.I.S.T. infiziert die Massen mit Zombie Rotten Roll ab dem 30.11. im Handel

Halloween 2012: Das öffentliche Debüt der neusten deutschen Zombie-Rocker rund um Gründer, Drummer und Songschreiber "Dino Cadavian" erblickt pünklich zu Halloween das Licht der Onlinewelt, und ist der erste Vorgeschmack auf das kommende Debütalbum im Frühjahr 2013.

Cadavian - ein höchst infektiöser musikalischer Virus infiert die Musikwelt.
Heilung? Unmöglich!

Der K ...


Freie-PM.de: Die Tickets für das Deutschland-Konzert von KISS am 12.06.2013 in der Waldbühne Berlin gibt es im exklusiven Vorverkauf bei EVENTIM

Hamburg, 07.11. Die Hardrock-Combo KISS kommt im Rahmen ihrer "Monster"-Tour 2013 für ein exklusives Konzert nach Deutschland. Am 12. Juni zünden Gene Simmons, Paul Stanley, Eric Singer und Tommy Thayer in der Waldbühne Berlin ein musikalisches Feuerwerk der Extraklasse - Tickets gibt es ab sofort im exklusiven Vorverkauf bei EVEN ...


Freie-PM.de: Norderney ist als Urlaubsort beliebt. Manche lieben die Insel, andere hassen sie. Landschaftliche Schönheit und fragwürdige Clubtouristen halten sich für den Chronisten des Alltagslebens oft die Waage. Der vorliegende Bildband zeigt auf 237 Bildern einen stillen und verständnisvollen Einblick in diese Welt neben anderen Welten. Die Fotografen dieses Bildbandes lieben die Insel.

Reisephotographie sollte sich nicht auf das Klischee der "Erfüllung" einlassen. Das Leben der ...


Freie-PM.de: (ddp direct) Die Händel-Festspiele 2013 finden vom 6. bis 16. Juni 2013 in Halle und in der Region um Halle (Bad Lauchstädt, Merseburg und Ostrau) statt. Internationale Stars, beispielsweise die Sängerinnen Magdalena Kožená und Christine Schäfer sowie der Countertenor Franco Fagioli, die im Rahmen von Festkonzerten auftreten werden, verleihen den Händel-Festspielen einen besonderen Glanz. Darüber hinaus gastieren international renommierte Ensembles wie die Accademia Bizantina, Venice ...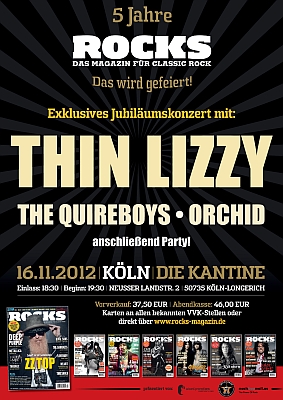 Freie-PM.de: Konzerte & Aftershow-Party in "Die Kantine" am 16. November: (thk) Mit einem stimmigen, dreiteiligen Live-Programm feiert ROCKS, das zweimonatlich erscheinende "Magazin für Classic Rock", sein fünfjähriges Bestehen: Am 16. November stehen ab 19 Uhr 30 Thin Lizzy (Hits: "The Boys Are Back In Town", "Whiskey In The Jar"), The Quireboys und Orchid auf der Bühne der Kölner Kantine. "Wenn es eine glaubwürdige Lizzy-Besetzung ohne den verstorbenen Phil Lynott gibt, dann diese mit dem ir ...